~Why We Are Different~
(This is the section of the website where we get to toot our own horn)
~Mission Statement~
As a supplier, we know the field well and have over 20 years of experience in the field of Mycology. It is our love, life, hobby, and profession. Shop with us and we guarantee you will be receiving the most advanced mushroom cultivation technology available, and pure success in your Mycology projects as well as great customer service.
Our clean room has been perfected and growing throughout the years. With the most advanced air filtration technology leading into a Class 1 Clean Room with over 70 sq ft of ULPA HEPA Filter Material scrubbing the air 24/7. All of our products are sterilized properly using sterile procedure protocol at the highest standard in microbiological. Ensuring a sterile and clean product from our clean room to your door.
We are happy to bring you professional grade sterilized substrates, clean viable edible mushroom cultures, affordable mycology equipment including beautiful custom built flow hoods, and only the cleanest, viable spores on the market! These are selected strains perfected to better each and every next generation in genetics. Guaranteed to contain millions if not billions of viable spores!
We pride ourselves in quality and are OCD about sterility. Testing every batch before it goes out of our doors!
We are also the ONLY and ORIGINAL site with 20cc Spore Samples for the same price or less than other sites that only sell 10cc, with equal or BETTER quality! and NO they are not just diluted 10cc solutions.
All of our products come with our Contaminant free, and 100% SATISFACTION GUARANTEE!
~Patents~
Earth's Tongue is the only spore supplier in the world with proprietary patented products.
Two are just for our spore solution samples.
Voted the world's best spore samples by our long term customers who shopped around, Our Revolutionary "New Moon" is patented. Our "New Moon" V.2.0 solution is the ONLY contaminant PROOF spore solution in the market today! Therefore increasing storing-ability and sterility, even after MULTIPLE uses, while keeping it very stable and organic.
Another revolutionary product by Earth's Tongue is our "Deep Freeze". Being able to be frozen for 10 years, and heated up to 130 degrees Fahrenheit, without any loss in viability, is our ingenious "Deep Freeze" spore solution! It's the perfect solution to freezing winters, extremely hot summers, and long-term storage. During extreme seasonal weather you won't have to worry about something happening to your spores during shipping! Also if you want to store the genetics in deep freeze storage, you can keep them for possibly a lifetime without loss in viability. And best of all it is super concentrated and only requires 1 drop for viewing under a microscope.


~Spores~
The spores we work with are treated with the most professional and knowledgeable care. As you can see our spores are very fine and not clumpy. However, they are very visible with the naked eye and we pack more than enough spores into our syringes so that you don't have to strain your eyes to view the spores.
Some online claims state that having less spores in the solution is better so that to not create competition with sub-strains. We have found this is just a way of making it okay to give you less product for your money. The more spores in a solution, the more reliable viewings you can do under the microscope.
We have always used a patent pending method of breaking up our spores extremely fine, that works even better than ultrasound! Any claims of spores being broken up by ultrasound would render the spores immediately un-viable due to ultrasound having sterilization properties which de-activate bacteria and spores fairly quickly. This process allows for better spore viewing so that they are not clumped together and are vast in number but separated from each other for easy bright field microscope viewing.



(You could receive any of the three "Old School" Variety pictured on the right
depending on our stock. All are made with the same high quality and care.)
We have the best and latest lab equipment, filtration systems and techniques, which are used to prepare our spore solutions. Cleanliness and sterile procedures are our NUMBER ONE priority. We have invested a lot of money into building a custom made lab from the walls, ceilings, floors, filtered ventilation, HEPA filtered air conditioning, UV sterilization, and seven custom made laminar flow hood stations each with their own purpose.
~Mushroom Expeditions~
Besides our patents, guarantee, and customer service, one of the most IMPORTANT things that makes us different is the fact that we are always hunting and going on hunting expeditions to different countries to bring new, wild, and fresh strains, and species to you! We quite literally go out and stick our hands in poop for you, so you can have something new! Hiking cold, rainy mountains with ponchos and cameras and taking samples as we go. Taking cover and sleeping where we can find and then again continuing the next morning.
~Genetics~
We try to keep all of our genetics as close as possible to the wild. So we keep almost everything in a "bank" and under 24/7 refrigeration, as well as some in freeze storage. We consider ourselves mostly geneticists, it's part of our goal and specialty to always have the most original and aggressive copies that will last many lifetimes, and also so we can go back to it any time we may need to! Since we are one of the oldest spore vendors in the world we have genetics dating back to 1st generation from the wild or as close as possible.
Another thing that sets us apart from the rest is the fact that we do not just re-sell spores. We work together with our partners in another country who send us fresh clean prints legally grown under extremely sterile conditions as well as using laminar flow hoods to take spore prints. We often work together with them sending them fresh genetics that we collect from the wild and then team up to get clean samples later used to make our spore syringes.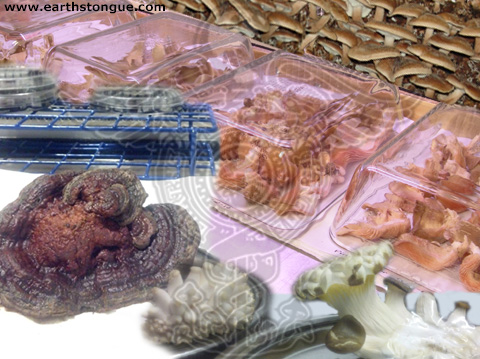 ~Isolations~
Most of our strains that we carry have been isolated for genetics in many ways. This is a time consuming process which takes years. The goal is the keep the aggressiveness of the original strain as close to the wild as possible but isolating it for size, thickness, density, and potency. This is a delicate process which can be very successful, but also if you don't know what you are doing, it can ruin a strain's genetics. This is why we always keep copies of originals under cold storage so that we can always go back to its wild predecessor. Most of our strains have undergone this very time consuming process and therefore perform better than other sources for the same strain.
(-EARTH'S TONGUE SINCE 1999)